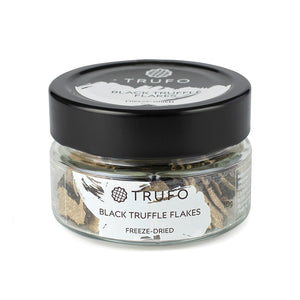 Thanks to a special drying technique, this product preserves the original taste of the truffle, paired with a fine and crunchy texture. These truffle slices can be stored on room temperature and used as you would use a fresh truffle slice. The taste is immediate and long lasting, so you can get through the off-season periods and never miss the original, true truffle pleasure you are used to.
Try wherever you'd use fresh truffle, be it with eggs, pasta butter, risotto, cheese or potatoes.
For more information please consult our product sheet.
Ingredients:
freeze dried summer truffle (Tuber aestivum), flavouring
Nutrition Information 100g product:
Energy: 337kCal, 1416 kJ
Total fat: 2.3g
   of which Saturated fat: 0.9g
Carbohydrates: 49g
   of which Sugars: 1.8g
Protein: 19g
Salt: 0.04g