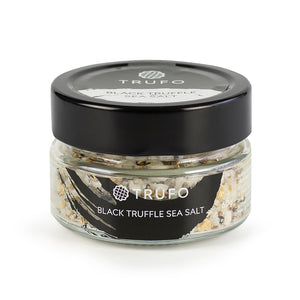 There are sea salts, and there is the Dorset Salt. Its fine flakes are exceptionally moreish and with the addition of black burgundy truffles this product is something rather special. Apply it to grilled vegetables, French fries, mashed potato or wherever you need an elevation of flavour.
For more information please consult our product sheet.
Ingredients:
Sea salt, 10 % freeze-dried Burgundy truffle (Tuber uncinatum), flavouring.
Nutrition Information per 100g product:
Energy: 34 kCal, 142 kJ
Total fat: 0g
   of which Saturated fat: 0g
Carbohydrates: 4.9g
   of which Sugars: 0g
Protein: 1.9g
Salt: 83.1g