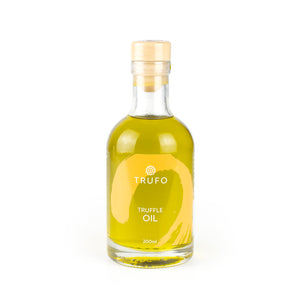 The finest quality Arbequina extra virgin olive oil from Spain is infused with the aroma of the white truffle (Tuber Magnatum). The result is an elemental truffle ingredient. It's easy to make truffle butter, an egg dish or infuse it into mayo, sauces or sour cream, and it spices up a fresh salad, too, so you can even leave onion and garlic out. Sprinkle truffle oil on the salad, stir it and serve.
For more information please consult our product sheet.
Ingredients:
Cold pressed olive oil, flavouring.
Nutrition Information per 100g product:
Energy: 843 kCal, 3468kJ
Total fat: 94g
   of which Saturated fat: 12g
Carbohydrates: 0g
   of which Sugars: 0g
Protein: 0g
Salt: 0g