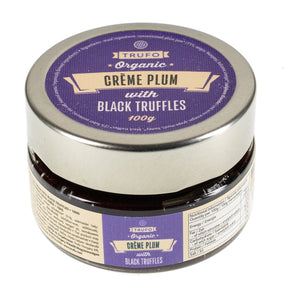 Organic Crème Plum with Truffles 100g
★ ORGANIC product ★
Contains only natural ingredients, no preservatives or additives!
Szatmár plum jam does not need to be introduced to anyone in Hungary. It is concentrated from a small, almost spherical plum variety, which has the most delicious aromas. Few substances can enhance these flavors - but truffles can. We combine these unsurpassed flavors with must-vinegar and the result is actually no longer jam, but rather a thick sauce. We recommend it both for flavoring and for consumption on its own. A unique complement to game and other meats. For salty and sweet dishes.
Our recommendation : For toast, for breakfast. In sauces and dips. Dark chocolate for foams and creams. In cakes, pies, sweet ravioli filling. In fruit soups as a thickener and colorant, for wild berries sauce. On top of sponge cakes, as an intermediate filling. For fried or grilled cheeses. Mixed with horseradish for hot dogs and grilled sausages. For grilled meats, wild game ragout, wok-cooked Asian dishes. For pancake filling, waffles, flambéed desserts, grilled fruits, muffins.
Ingredients:
main ingredient: condensed plum jam* (71%, country of origin: Hungary), balsamic vinegar* (sulfur dioxide) (red wine vinegar, grape must), honey*, black truffles* (5% Tuber aestivum), sea salt, natural aroma.  (*organically farmed ingredients)

Nutrition Information per 100g product:
Energy: 906 kJ/216 kcal
Total Fat: 0.7 g
   of which Saturated Fat: 0.1 g
Carbohydrates: 50.9 g
   of which Sugars: 43.9 g
Protein: 1.4 g
Salt: 0.5 g