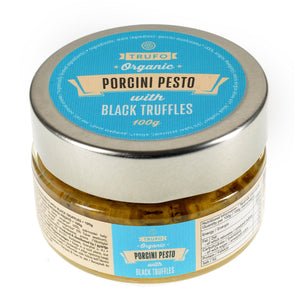 Organic Porcini Pesto with Black Truffles 100g
★ ORGANIC product ★
Contains only natural ingredients, no preservatives or additives!
The noble taste and texture of porcini mushrooms, with extra virgin olives and intense truffles. The term 'pesto' usually refers to a chunky, oily substance, a kind of sauce. Here it means a discreet and edgy mix of noble materials. It can be used both on its own, concentrated - the most obvious way: on pasta - and as a spice, for example as a flavoring for mushroom sauces and mayonnaise. You can enjoy it in a thousand ways: to get your imagination going, try it first with toast, and then with egg dishes.
Ingredients:
main ingredient: porcini mushroom* (45%, country of origin: Hungary), extra virgin olive oil* (5% Tuber aestivum), olives*, pumpkin seeds*, sea salt, natural aroma.  (*organically farmed ingredients)

Nutrition Information per 100g product:
Energy: 1909 kJ/456 kcal
Total Fat: 51.4 g
   of which Saturated Fat: 7.3 g
Carbohydrates: 1.9 g
   of which Sugars: 0.1 g
Protein: 2.5 g
Salt: 1.0 g