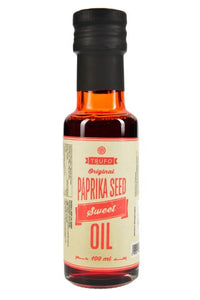 Paprika Seed Oil, sweet, 100ml
Contains no preservatives or additives!
A specialty with an extremely clean aroma. Its impressive color is given by a small amount of dried paprika, which is mixed with the seeds before pressing. It has the finest red pepper smell, aroma and color. We use it as a topping and flavoring for cream soups, sauces, cooked vegetables, but also for salads, cheeses, cold dishes, and to enhance the color and aroma of peppery dishes. We bottle it in sweet and very strong versions. You can even use a combination of the two!
Ingredients:
main ingredient: paprika seed oil (100%, country of origin: Hungary)

Nutrition Information per 100g product:
Energy: 3410 kJ/830 kcal
Total Fat: 92.2 g
   of which Saturated Fat: 3.2 g
Carbohydrates: 0 g
   of which Sugars: 0 g
Protein: 0 g
Salt: 0 g