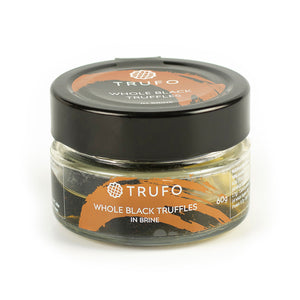 Carefully selected Black burgundy truffles, washed and preserved in brine. Designed to enhance dishes from pasta and risotto to grilled meat either. Slice and use as a garnish to show off the iconic truffle shape, or dice to add a unique texture.
For more information please consult our product sheet.
Ingredients:
50% black truffle (Tuber aestivum), water, salt. Net weight: 60g. Drained net weight: 30g.
Nutrition Information per 100g product:
Energy: 66 kCal 275 kJ
Total fat: 4.4g
   of which Saturated fat: 2.7g
Carbohydrates: 5.7g
   of which Sugars: 0g
Protein: 0.7g
Salt: 0.12g